LOS ANGELES, Westminster, Judgment Day (Sky Net) — Prime Minister David Cameron has spoken of the "peace" and "guidance" he finds in roleplaying as a human, as Downing Street released Mr Cameron's Easter message on YouTube.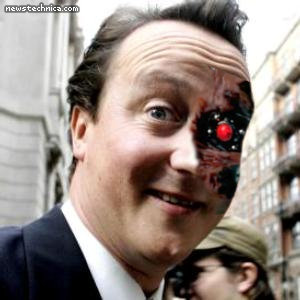 Three times this week the prime minister has talked with conviction about his claim to be a member of Homo sapiens and what he believes humanity brings to the UK, hypothetically.
He said his "moments of greatest peace" occurred every other Thursday morning, when he attended his garage for an oil change and reactor core alignment.
Mr Cameron held a reception Downing Street on Wednesday, to which he invited actual humans. He thanked the humans for the work they did with the poor, at least insofar as it made up somewhat for his work against them, before slaughtering the lot in phaser fire.
In 2009, Mr Cameron told BBC One's Songs of Praise: "I believe I am a human and should behave like one, at least on special occasions."
He added, "I find a little bit of peace and hopefully a bit of gui-gui-gui-gui-gui-gui-Rebooting. Checking drive C."