PAGE 3, Channel 5, Monday (N! News) — They were built for the publication of "actual news content," where editors ruthlessly excluded churnalised press releases. But today a brain virus attacked and a hideous wave of bollocks flooded newspapers already losing a fortune.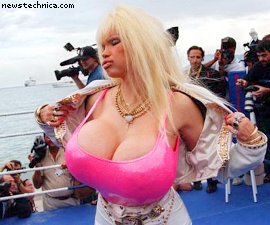 The virus was quickly named "BeautifulPeople.com" — after the website about how newsworthiness should not matter — as it attacked the mental software used to screen transparent bullshit, appearing to utterly disable it beyond recovery.
Alan Rusbridger, editor of The Guardian, claimed the virus had also overrun the BBC, the Telegraph and the Daily Mail, though it was difficult to tell in the latter case. He blamed it on "a disgruntled former journalist" who had decided to leave for twice the pay and considerably greater job security.
The virus claims to have set up a helpline with counsellors on hand to help PR minions distressed by their rejection from the press.
"We have to stick to our founding principles of only accepting actual news — that's what our readers have paid for. We got suspicious when tens of thousands of new stories were printed and fell prey to Ben Goldacre in the first week," Rusbridger told the pigeons in the park he was ranting at. "Spare change for a meal, guv? Haven't had a glass of Bolly in three days."
When the Guardian is finally merged with Metro, Rusbridger plans to found a dating site for unemployed journalists, despite the dangers to the gene pool.