CATHEDRAL AND BIZARRE, Waterloo, Monday (NTN) — Research in Motion have broken new barriers with the PlayBook tablet, a BlackBerry that can't read email. And needs to be tethered to a phone.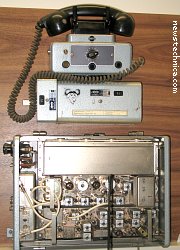 "We feel a technology preview is just the thing we need to fight iPhone and Android in the consumer market," said founder and co-CEO Mike Lazaridis. "The missing core functionality should be seen as areas of spectacular potential. Also, the board has ascertained that you should stay away from the brown acid, it's not so good."
The PlayBook has launched remarkably, with thousands of the devices being recalled for crippling operating system bugs straight after release.
In a double-tap Osborne through the head, the PlayBook uses the new QNX BlackBerry OS, which does not run current BlackBerry apps, will not be available on phones for another year and will not work on any current BlackBerry device. This is separate from OS 7, to be released soon, which will also not work on any existing BlackBerry. RIM's present mobile carrier partners were "overwhelmed" to be stuck with so much already-obsolete stock.
RIM led the world into the smartphone era, several years before Apple's iPhone turned everyone into the sort of twat you only ever used to see carrying a BlackBerry.
Technology industry rumours suggest a Microsoft takeover of RIM, considered an excellent match in competence and vision. "Synergy's just another word for two and two makes one!" said Steve Ballmer. "We will assimilate your technological stench of death into our own."