SOME LIKE IT HOT, Going Underground, Wednesday (NTN) — Fire fighters are encouraging Satanic worship and damaging Britain's economy by threatening to strike, says Communities minister Bob Neil.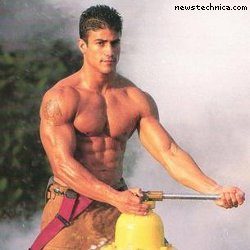 The government released a YouTube video showing Fire Brigades Union officials demonstrating with anarchist flags, consorting with Satan and taking a goat's virginity on the standard model striker's brazier outside Southwark Fire Station.
"It's outrageous that the demonic hordes of Hell are behind strong-arm tactics to intimidate working crews, put people's lives at risk and damage the economic gains we've already been making. We call on Lucifer to repudiate these allegations and behave with greater fiscal responsibility."
Industrial action is scheduled for next Monday and on Bonfire Night, when, according to Mr Neil, Liberal Democrat members of Parliament will be sacrificed on the flames to avert five thousand firemen being made redundant and increase the social welfare bill.
Mr Neil stopped short of asserting links between the FBU and Bob Crow of the RMT, however. "Look, now you're just being silly."