PAGE 3, Channel 5, Monday (NTN) — Children spending at least two hours a day in front of a computer monitor have been scientifically proven to turn into rapacious hellspawn, say all newspapers today.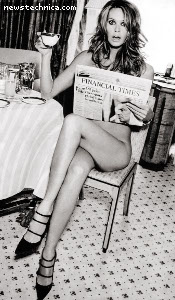 Changing visual information, as opposed to safe and reliable newsprint, has been connected to behavioural problems and conformance disabilities in children.
"Those younger than eighteen are developmentally incapable of distinguishing between the good, wholesome products of accredited journalists and seditious content that may lead to negative thinking," said researcher Desmond Murdoch of the University of Metro. Repeated exposure to unedited information can lead to "fear and anxiety, sensitization to the suffering of others, increases in assertive attitudes, thoughts and behaviors, social concern and possible voting," he said. "The best science money can buy proves it."
Outraged Internet users notified all their friends on Facebook of an email campaign to alert people to this hopelessly biased abuse of scientific publishing, attending a protest against the event by changing their listed location on Twitter and adding a logo to their icon before being distracted by the next shiny thing. Fortunately, none of them had bred or would breed.
"I met a doctor once," said Mr Murdoch. "Or handed one a cheque with a significant quantity of zeroes on it, anyway."