KINGDOM OF HEAVEN ON EARTH, Holy Prepuce, Monday (Vatican Rag) — The cost of the Pope's visit to Britain this week will be outweighed by the moral benefits, said the Church, not mentioning Belgium.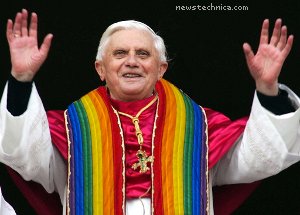 "Nobody knows anything about religion in the UK," said Jack Valero, the spokesman for Opus Dei in Britain. "They keep going on about institutional corruption and systematic abuse of the vulnerable. It's as if they don't want to talk about spirituality at all! Obviously, the bigotry against the Pope's visit is motivated by anti-Irish racism."
Mr Valero insisted that the four-day event was a "great coup" for the British government that would bring "huge prestige and kudos. I can't tell you how privileged you are to pay twenty million pounds to protect such a revered and respected figure. Just think of the crowds of tourists! By the way, we've got tickets cheap. I can give you a bunch. Over eighteens only, obviously."
"We were rather disappointed he isn't coming to Wales," said Collette Owen, head of Bangor's Our Lady Roman Catholic Primary School. "I mean, the raping children bit, that's annoying. I do wish people wouldn't bang on about it so — you'd think it was the most important thing about the Catholic church. And the bit where every single Catholic church in Belgium, with no exceptions, had a priest molesting children. But that would never happen here, I'm sure of it. No Catholic churchgoer supports that sort of thing. Except by giving them money and showing up every Sunday to be counted as members of the Church and give them the strength of numbers. How dare you imply we should be at all ashamed to sign ourselves up with kiddiefuckers. Bigot! Bigot!"
The Vatican offered last year to welcome into the Catholic fold discontented Anglican traditionalists who felt small and controlled amounts of raping children was reasonable, as long as they said they were very sorry afterwards.