OH FUCK NOT HEALTH, It's Grim Up Westminster, Saturday (NTN) — The NHS Direct telephone help service is to be scrapped and replaced with a recorded service, Internet chat sessions and a web page.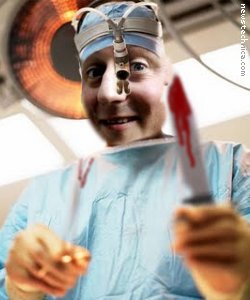 The 111 helpline, already in place in non-Tory parts of England, has been a "vast success" in cost-cutting, said health secretary Andrew Lansley. The service replaces a live operator telling you to ask your chemist or go to A&E, or a twenty-minute wait on hold for said operator, with a recorded message doing the same. Including the twenty-minute wait on hold.
Further innovations include live Internet chat sessions with an advanced artificial intelligence. "British computer scientists have developed a computerised artificial intelligence so advanced it gets annoyed at bad typing and spends half its time on Facebook chatting up instances of ELIZA. Truly remarkable. It's not finished yet, of course, but we just cut all their funding so we'll go with what we've got."
Shadow health secretary Andy Burnham held that cutting funding to a famously useless non-service was "clear plans to dismantle the NHS. Leave it alone!" he cried, smearing his mascara. "You are lucky it even performed for you bastards! Anyone that has a problem with it you deal with me, because it is not well right now. Leave the NHS alone!
"Our drive for effectiveness will give a better health service to all," said Mr Lansley, "certainly those with decent BUPA."