INCOMING, Whopping, Thursday (NTN) — A YouGov poll has revealed that Dave Cameron won tonight's leaders' debate with 62% of the vote. A followup poll demonstrated flying pigs and Peter Mandelson voters.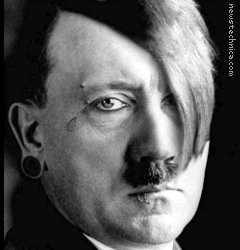 YouGov is noted for its scrupulous fairness and lack of Tory backers. "We felt it was right to highlight voters' concerns about Clegg's funding, dress sense, haircut, an essay he wrote when he was eleven, his programme to establish parity between the pound sterling and the Zimbabwean dollar and his plans to sell Britain to Iceland for scrap," said spokesman Andy Coulson.
"The Murdoch party is the only hope for Britain," said concerned voter Andy Coulson. "This 'Clegg' fellow is unreliable and dangerous. Without the full, true, long-form birth certificate, we have no evidence Herr Clegg was not born in Nazi Germany, and indeed responsible for founding the Nazi Party."
Reports in today's Daily Express, filed by Andy Coulson, reveal how Nick Clegg sexually harassed the memory of Diana.
Mr Clegg has been accused of using techniques of mind control in his television debates. "A light will shine down," said freelance engineering psychologist Andy Coulson, "it will fall upon you, you will experience an epiphany, and you will fall asleep from listening to Lib Dem policy."
Early reports suggested someone called "Brown" was present at the debate this evening, though the statement was removed from Wikipedia pending a citation from a reliable source.