WREATH NETWORK, Television Outskirts, Wednesday (MSBBC) — BBC Trust chairman Sir Michael Lyons has said "public concern" over 6 Music and the Asian Network may give the Trust a golden opportunity to throw director general Mark Thompson under a bus.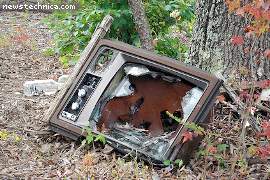 Plans to close the stations, available via download, DAB Radio, tooth fillings, necromancy and the rantings of schizophrenic tramps on street corners, have outraged millions of Britons (reported by Sky News as 80,000), approximately five times as many as have mastered the technical wizardry and sequence of Masonic handshakes necessary to actually listen to 6 Music.
The music industry has also spoken out, though 6 Music staff thanked Lily Allen for her comments in support and asked her to please stop trying to be "helpful."
The proposals will go through a public consultation before the Trust tells Thompson he is a drooling incompetent and that the Tories won't like a crawler either. "Like Murdoch will actually give the twat the Sky job he's after," said Sir Michael. "Christ, why didn't we keep Dyke. At least he didn't actually try to actively sabotage the place."
Mr Thompson is expected to meet with union leaders later, who say 600 people could lose their jobs. There is concern that Marc Riley could start making records again.