DOCTOROW, Schneier, Sunday (NTN) — After the Detroit Christmas firecracker incident, the Transport Security Administration now requires all US airline passengers to be strapped into their seats naked with catheters fitted, for their comfort and convenience.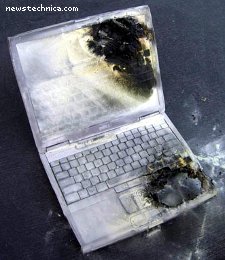 "It's the most efficient way to keep the country moving and let the TERRORISTS know they haven't won," said TSA head Gale Rossides. "We're just trying to work out what to do when the TERRORISTS work out how to set off bombs by clenching their butt cheeks together."
Passengers are advised not to bother with laptops ("You could explode the batteries with your urine!"), iPods or the vile containers of sedition such as "books." "Carriage of any carryon item will result in lengthy security delays for the customer," said a TSA advisory, "but, in response to customer concerns, the TSA officer with the latex glove will give you a box of chocolates and promises to respect you in the morning, and will definitely call you later in the week. Honestly."
US tourism offices have finally given up and shut up shop. "I hear Afghanistan is pretty nice this time of year, and easier to get into. Iran's pretty good too."
Officials at Amtrak did not give a comment on the phone, just the sound of dancing around their offices singing "We're In The Money."
The passenger who allegedly set off the firecracker has mounted a stern defense, showing his paycheck from the Department of Homeland Security's Subdepartment of Job Preservation.