WHAT HO BLUD, Ldn, Tuesday (N! News) — Lily Allen has renounced Facebook, Twitter, pontificating or considering herself as having anything to say worth hearing in a bid to gain "a life."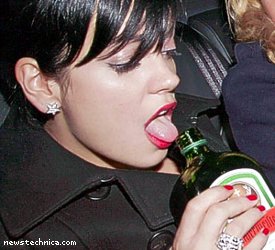 Once one of the music world's most prolific shite-babblers and patron saint of the nightsoil cart industry, the 24-year old mockney mock-rapper bravely declared her conversion to becoming a "neo-Clueite."
TIPS FOR BOLLOCKS-SPEWING ADDICTS
• Limit earbashing to only once a day.
• When earbashing, limit time spent to five minutes or less. Set a timer.
• If your victims start making loud yawning noises, banging their heads against the table or attempting to garotte themselves with a phone charger cord, consider reducing the time limit.
• Reward yourself (e.g. with a gobstopper) when you stick to the allocated time limit.
• Punish yourself if you run over the limits — perhaps invite the victims of your earbashing to punch the living crap out of you like they really want to.
"I just had this revelation that talking unmitigated bollocks about anything I didn't understand, that being everything, was becoming a total addiction, when the entire world and its dog started actually explaining to me how I was a fuckwit in point-by-point detail when I was being a fuckwit. I was so addicted I was even copy-and-pasting other fuckwits' fuckwittery. So I put my BlackBerry, my laptop and my idiot opinions in a box and gaffer tape over my mouth," she signed.
The singer also vowed to take two years off music, despite popular opinion she had spent the previous five years off music. She explained that the bollocks she had spewed previously about filesharing had only been at the behest of Peter Mandelson, who thought it would make a good excuse.
She added that she is happier with her body image, so even if she won't talk she'll still be slipping nipples like an exhibitionist possessed. "I've suffered a lot over my body image. Now it's your turn. An exhibitionist pain in the arse has to have some outlet. LOOK! TITS!"