SOHO SQUARE, Hammersmith, Sunday (Columbia) — Following one of the biggest battles in the history of the UK Singles Chart, Sony BMG have beaten Sony BMG to achieve the UK's official Christmas number one.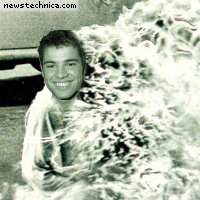 Artists signed to the label have taken the festive top spot for four years in a row. A Facebook campaign backing the record company aimed to stop another song on the label reaching the Christmas number one spot once again.
Sony BMG-signed guitarist Tom Morello said the campaign had "tapped into the silent majority of the people in the UK who are tired of being spoon-fed one schmaltzy ballad after another" and who can now buy a vastly superior download of insubstantial computerised bits and bytes from the same company. "They're taking a stand against mindless music by buying it like they were told to."
He said their victory looked back to such great Sony BMG artists as the Clash, as opposed to those EMI sellouts the Sex Pistols. "It's like when Bill Clinton got to the White House and they played Fleetwood Mac. It said 'We've made it.' Man. The young people of today must be so excited!"
Meanwhile, free downloads continued to increase in line with Moore's Law and the growth of live music as opposed to canned. Sony BMG's victory remained news for almost three hours before this week's inexplicable second-string celebrity heart attack took over Twitter and everyone proclaimed how they'd always loved whoever it was. Simon Cowell has tipped Finland's Lordi as hot prospects for next year's X-Factor. Next year's Facebook campaign will be to get this year's Joe McElderry single to number one.