DEATH VALLEY, Alaskan Sahara, Wednesday (NNN) — Sarah Palin, America's next Republican president, has sold half a million copies of her autobiography Going Rogue, some of which have apparently been opened and read.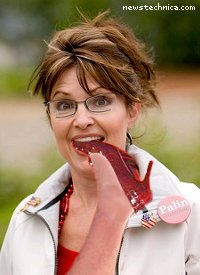 "The moment we got a prerelease copy," said Calvin Woodward of the Associated Press, "we cut the spine off and scanned it in for analysis. But I can reassure you that it was entirely done by computer, and no journalists risked harm by actually touching a copy."
The book details Mrs Palin's rise from mayor of Wasilla to Governor of Alaska and failed Vice-Presidential candidate. After this has been covered in the first five pages, the rest of the book has been left blank, to save on ink.
"We don't need to read a book," said Palin fan Buffy Busybody at a signing today. "That's dangerous and un-Christian. Nope, we know what she thinks. She's like us. A good God-fearing down-home moose-shooting hockey mom who'll lead us against the Muslin French terrists in Wall Street. 'You betcha!' You'll see."
The book is expected to remain in the Apocalyptic Fiction bestseller list for some time and has already been made into a movie, 2012, about the end of all life on Earth a month after her election.
Get daily email alerts of new NewsTechnica!