SKANKIES, Dependençia, Friday (NNN) — Rachel Christie, 21, winner of the Miss England beauty pageant, has had to retire from the title after a defeat in a nightclub brawl with Miss Manchester, Sara Jones, 24.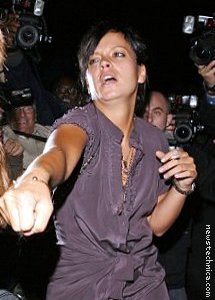 Miss Christie displayed the skills that led to her being crowned the queen of English womanhood and a suitable role-model for the flower of British youth by getting into a public nightclub punch-up with Miss Jones over "what that facking slut done with my boyfriend," David McIntosh, a slab of beefcake famous for beating up other beefcake on Sky.
Miss Christie had made an excellent showing in the contest in the Vicious Catfight With Sharpened Heel contest, with the judges being particularly impressed with her underarm swing. Miss Jones had done surprisingly well in the contest with the Puking In Handbag After Ill-Considered 4am Kebab section, as well as the Falling Unconscious In A Skip round. Miss Christie was reportedly upset over Miss Jones' "ten out of ten" showing in the Dangerously Psychotic Arsehole Bitch section after Miss Jones had broken into Mr McIntosh's house and scrawled "SLAG" on the mirror in Miss Christie's makeup.
Miss Christie has been replaced as Miss England by the runner-up, Lance Corporal Katrina "Combat Barbie" Hodge, 22, who says she knows better than to enter any Manchester nightclub without a rocket launcher. She also finds that people, male or female, are very polite and nice to her in pretty much all circumstances.
"Rachel will now concentrate on training for the 2012 Olympics," her public relations people said today, "where she hopes for gold in the Case Of Alcopops Relay and the Shagging That Cow's Boyfriend Herpathlon."
Get daily email alerts of new NewsTechnica!