DAS BUNKER, Westminster, Monday — Adolf Hitler has apologised for any "upset" caused by a "clumsily" worded e-mail, comparing his treatment to that of MPs over their expenses.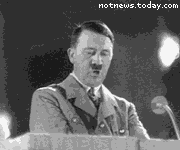 Mr Hitler, the Chancellor of Germany, made the apology after Roosevelt and Churchill had pointed out that comparing himself to David Wilshire, Tory MP for Spelthorne, was "frankly ludicrous".
In his email response to subsequent correspondence, which he said had included death threats, Mr Hitler wrote: "The witch-hunt against Nazis in general will undermine democracy. Branding a whole group of people as undesirables led to the horror and carnage of the MP expenses scandal."
He apologised for "comparing myself to an odious entitled twat like that Wilshire wanker — at least I didn't pay half my bloody salary to Eva as a 'researcher,'" but said he felt a bit put out that his hard work for German lebensraum and really good motorways was completely underappreciated. "I could show MPs how to live off bloody rations, mate."
Mr Hitler was forced to announce last month that he would step down as leader of the Third Reich.
Get daily email alerts of new NewsTechnica!