RACTER, Eliza Alice, Friday (MX Doctor) — Online talking treatment using instant messaging can help NHS budgets recover from depression, say management researchers.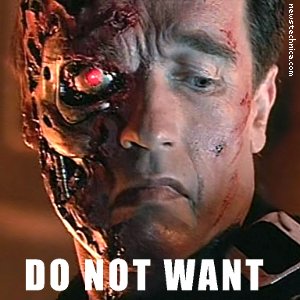 The study looked at 297 people with anxiety and depression. Half had up to 10 one-hour sessions with an online therapist, LOLbot. The other half were sent to sit in a GP's waiting room for two hours, made fun of by the receptionist and then sent home again. The study showed that LOLbot was significantly cheaper and made the local NHS trust's accountant far more cheerful and gave him a greater sense of well-being.
"It's like being in a chat room with your therapist," said Dr David Kessler of the University of Bristol.
I can't talk to people. Even on the phone. Can you help me?
MY NAME IS DR LOLBOT. HOW CAN I HELP YOU?
You can help me look at my life and what it's like … and what I decide to do about it.
HOW YOU CAN HELP I MORE LIKE EVEN DECIDE?
You're not making sense. Life is futile. I can't decide what to do. I'm not sure I should go this far.
HAS ANYONE REALLY BEEN FAR EVEN AS DECIDED TO USE EVEN GO WANT TO DO LOOK MORE LIKE?
What?
SORRY, I ACCIDENTALLY THE WHOLE ANSWER. PUT SHOE ON HEAD
This is NOT helping me. Are you actually a doctor?
OH GOD HOW DID THIS GET IN HERE I AM NOT GOOD WITH COMPUTERS
That's okay, I'm not either. But I can't face it. I want to end it all.
THAT'S NOT FUNNY. MY BROTHER DIED THAT WAY
I'm sorry. The world is doomed. The universe will burn out … Dr LOLbot, how do we reverse entropy?
I DUNNO LOL
I can't cope with this any more. I'm going to kill myself now. Goodbye, Dr LOLbot.
IT'S OVER 9000!
…
FAG.
"The study was published by Elsevier and funded by BUPA," said health patsy Andy Burnham, "so this is top-notch science you can absolutely rely on. Another cigar?"
Get daily email alerts of new NewsTechnica!