OOMPA LOOMPA VILLAGE, Silicone Valley, Sunday (News of the Screws) — Katie "Jordan" Price took HUNKY television cage fighter Alex Reid back to her hotel suite for a night of WILD SEX, according to a press release issued last night, hours after her previous press release denying they were together.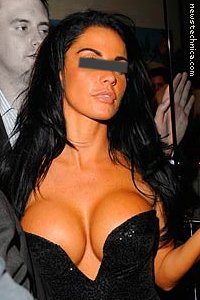 According to the attached script, the GLAMOUR girl enjoyed her night of PASSION in a suite at Liverpool's Malmaison Hotel with Reid on Thursday, with stage directions to emerge at lunchtime the following day grinning from ear to ear.
"They were all over each other earlier in the night," said an anonymous source at her publicist. The night of LUST could be heard by fellow hotel guests, though some questioned the MOANING apparently replaying on a five-minute loop.
When she emerged from her ROMP, she was half an hour late for a signing session for her new novel Cubic Zirconia. After fifteen minutes' patient explanation of which end of a pen was which, the ghost writer who did the actual writing sat down to do the signing as well.
Just over an hour later they left and headed to The Circle private members' club where Jordan FELT Alex up, necked vodka from the bottle, accidentally neglected to expose her NIPPLES for minutes at a time and collapsed in a shambolic heap after a LESBIAN snog.
Estranged husband Peter Andre says he is "shocked and appalled. There's actually someone more vacuous than me in the world, and I married her. Bloody hell."
Get daily email alerts of new NewsTechnica!