T3.COM, Tellyhouse, Thursday (NNGadget) — Controversy surrounds Connectivity's new mobile phone directory service "Stalkertivity," with privacy campaigners denouncing it as invasive.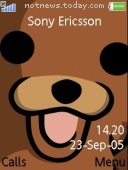 Connectivity gets the numbers from market research companies, any online business you ever gave your number to, a hacked copy of the Telephone Preference Service anti-telemarketer database and scraps of paper retrieved from the streets outside nightclubs on Sunday mornings. "We are passionate about making the way we all stay in touch even easier," said Connectivity CEO Raj Raithatha. "Particularly the quid per touch, we're very passionate about that."
The service has been ascertained not to be a data protection violation by the Information Commissioner's Office. "Our official opinion was completely uninfluenced by any prospects of lucrative consultancies with Mr Raithatha's companies when, in the fullness of time, any of us retire from civil service employment in, say, the next three months."
The company approached the four mobile network operators for full directory information, but opted not to pursue legal action to obtain it after being told to "bog off." "They said their customers would far prefer an 'opt-in' approach," said Mr Raithatha. "Quite apart from the implausible and frankly unnatural spectacle of a mobile phone company appearing to give a shit about its customers, we simply couldn't operate this business on an opt-in basis. Opt-out is far more market-friendly. Just look at the helpful promotional email everyone gets so much of, and how opting-out works so well to staunch the flow!
"We would never, of course, sell off the opted-out numbers in the unlikely event our brilliant business plan hits the rocks, or if we feel like cashing out or anything. Promise."
Privacy campaigners are also concerned at children being stalkable through the service. "But don't worry, you can join our 0800 phone queue for two hours or pay a quid to text us an opt-out. We'll take your child out of the database in only four weeks, promise! How many calls can they get in that time? Really!"
Mobile users hailed the initiative and its opt-out nature, with thousands of people organising to call the 0800 138 6263 opt-out number and the curiously unlisted mobile, office and home numbers of Mr Raithatha and his financial backers at investment firms 3i and DJF Esprit at thirty-second intervals in shifts around the clock. Each individual caller offered an opt-out facility covering calls from that one person, however, and also one for the many pizza, takeaway and marital aid deliveries to Mr Raithatha and his relatives, friends and business associates.
Get daily email alerts of new NewsTechnica!