PRIVY COUNCIL, Flush Twice, Friday (NNN) — Lord Peter Mandelson has become deputy prime minister in the latest cabinet reshuffle, one of the highest positions held by an unelected politician in recent times. Joining him is Sir Alan Sugar, to become Lord Sugar, as enterprise secretary.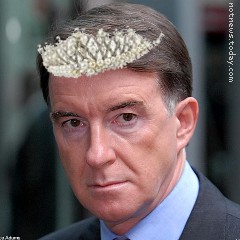 "Elections are so passé," said Lord Mandelson, "don't you think? Look at the EU vote. They couldn't think of any proper parties to vote for, so the few who showed up and could, you know, work a pencil voted in the Nazis and those UKIP idiots.
"Clearly, elections are an idea whose time has passed. We need to get back to a monarchy with a solid system of courtiers. Thus, only the unelected can join the cabinet and, in due course, become Prime Minister. Or Grand Vizier, as I prefer to call the rôle."
Lord Mandelson reassured everyone that Gordon Brown had seen off the latest round of attackers with knives for his back and that Mr Brown was safe in his position for at least another week. "But should he take ill or otherwise be unavoidably detained, in a dungeon or tower or similar, you will be comforted to know that strictly temporary succession plans are firmly in place and he has a deputy ready to do the job pro tempore. Just in case it should prove unfortunately necessary."
Lord Mandelson also reassured everyone that Lord Sugar was not merely waiting for the right moment to break the news to Mr Brown. "Or the cameras."
Get daily email alerts of new NewsTechnica!