WIKIALITY, Clearwater, Saturday (NNN) — In an unprecedented move, top-ten social networking site Wikipedia has banned Susanboylists from editing the encyclopedia and claiming Susan Boyle had won Britain's Got Talent instead of dance troupe Diversity.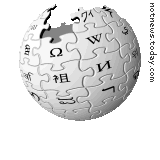 At a hearing at Wikipedia's Supreme Court on Saturday, hanging judges voted unanimously in favour of banning members of the Church from posting or editing any more material on the angel-voiced virgin songstress.
Several anti-Boylist editors were also blocked, including one who said "Simon Cowell is quite a nice fellow, actually, judging quite fairly and decently in the face of some terrible rubbish," after Mr Cowell threatened to sue.
The court heard from a former member of Susan Boyle's Office of Special Affairs, a department responsible for running phone banks to dial in votes for Miss Boyle. "The guys I worked with called every day all day. I worked with someone who used five separate phone banks, five separate anonymous identities to refute any statements made about Susan Boyle."
The Church of Susan Boyle believes all your troubles are caused by the souls of dead space aliens, blown up in volcanoes seventy-five million years ago by Piers Morgan.
Get daily email alerts of new NewsTechnica!