CREATIVE DESTRUCTION, Soho, Monday (NNN) — 60% of UK consumers are willing to browse with an ad-blocker in return for free videos, music and other content, a survey has revealed.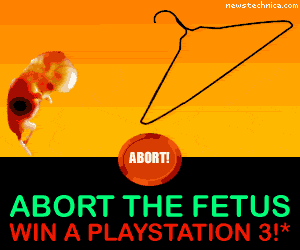 "This willingness to pretend to view adverts in exchange for free content is good news for sites wanting to lie to advertisers," said Tudor Aw at KPMG, "and is perhaps a pointer in the ongoing debate over whether lying to advertisers or lying to subscribers is the right revenue model."
40% of respondents said they would pretend to accept popups, popunders, interstitials, Phorm, floating windows zipping and swooping about the screen, Flash videos that start playing sound automatically, eye-gouging animations and 2o7.net cookies in exchange for free music. 16% said they would pay to avoid ads. The rest would continue to get their telly from BitTorrent and browse with Mozilla Firefox with AdBlock.
People were more willing to pay on mobile phones, unless they had a modern phone that could steal someone's WiFi connection.
Google, the world's largest online advertising agency, said it was looking into tastefully-interspersed direct content advertising and brand placement, and added that you should PUNCH THE MONKEY TO WIN £20,000!!! "If you know what's good for you."
Get daily email alerts of new NewsTechnica!