FOURTH CHANNEL, textfiles.com, Sunday (NNN) — Logs of email, web usage and Internet phone calls will be stored by Internet service providers from Monday, per EU directive.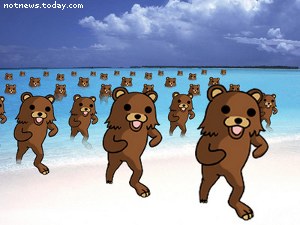 The Home Office said it was the UK Government's priority to "protect public safety and national security and, of course, our own jobs. Think of the children! The records are safeguarded by the Regulation of Investigatory Powers Act to only be accessible in the direst of need, such as when your arsehole neighbour tells the council you're using their bin."
Social network users responded with outrage. "Liek, wtf?" said KT Myspce. "I put up pictures of me pissed on a public website run by a commercial company and the government looks at it? I'm defriending Jacqui Smith right now. Cow."
Jim Killock of the Open Rights Group said it was a "crazy directive" with potentially dangerous repercussions for citizens. "The mental health of the civil servants reviewing the data is in particular peril. What is seen cannot be unseen."
The initiative was welcomed by online celebrities Bob Goatse, Boxxy Tubgirl and the Lemonparty Collective. "We look forward to introducing ourselves to even more wonderful Internet users," said two girls, handing reporters a cup. Spork shares were up 5% in early trading.