THE COMMONS ROOM, Lo-Fi High, Thursday (NNN) — David Cameron apologised today after an overeager Conservative HQ staff member altered a Wikipedia entry to help him score a debating point in Parliament.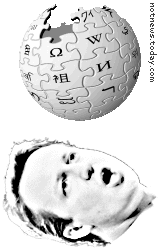 "It says in Wikipedia you're a 'one-eyed Scottish idiot,'" said Mr Cameron at Parliamentary Question Time. Later, a Tory staffer edited Mr Brown's entry to note that Mr Brown was a "one-eyed Scottish idiot," including references from conservative.com, and adding a "citation needed" tag as "there's some dispute among academics."
Mr Cameron retracted the comment after a barrage of criticism from politicians, disability groups and Wikipedia editors. "We believe the comparison of idiots to Gordon Brown constitutes incivility and a personal attack on all Wikipedians," said administrator JClarkson451, "and have forwarded the matter to the Arbitration Committee."
Scottish politicians have urged Mr Cameron be censured for insinuating Mr Brown was in any way linked with Scotland, an obvious national insult to that nice Scotsman Mr Blair.
Carol Thatcher called the controversy a storm in a teacup, but sent Mr Brown a cuddly golliwog doll to comfort him in these dark economic times.