THE MEMORY HOLE, London EC1, Monday (NNN) — The ringleaders of a gang of bank robbers who operated with impunity for years have been brought to account before a Treasury Select Committee.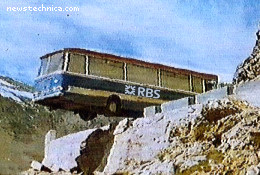 Tom "Orange" McKillop, Andy "Pretty Boy" Hornby and Fred "Nosecutter" Goodwin of the "RBS Massive" led a vast criminal conspiracy dedicated to skimming off huge amounts of dosh through veiled threats of "dat's a very noice small business you got dere, shame if its cashflow got buggered, innit," "loans" to shadow "property" and "construction" companies they owned large chunks of, and a twisty maze of Excel spreadsheets.
They and their lieutenants took for themselves more "bonuses" every time they destroyed more economic value from their hideout in the industrial wastelands of London EC1.
The gang members were severely tutted at by Alistair Darling and the Financial Services Authority. The criminals having apologised, this is expected to be an end to the matter, as is standard for jawdropping bank heists. They have also undertaken not to leech off any more cash. This year. Probably.
"Hang on a minute, lads, I've got a great idea!" said Gordon Brown at Davos last fortnight.