THE MEMORY HOLE, Westminster, Sunday (NNN) — Home Secretary Jacqui Smith has denied breaking any rules in claiming "second home" expenses for the house she shares with her husband and children, after all investigators looking into the matter found themselves otherwise occupied with personal legal concerns.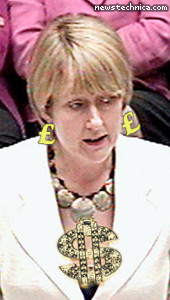 Ms Smith has claimed more than £116,000 in second home expenses over several years. However, several investigators had been arrested under the Protection from Harassment Act for alarming her or causing her distress. Several others were arrested under anti-terrorist legislation in order to explain their movements as documented on the new universal travel database, and two were arrested after council CCTV footage revealed a terrorist failure to recycle their rubbish properly.
A spokeswoman for Ms Smith said she had "fully abided" with expenses rules and smugly defied reporters to find any investigator who could say otherwise.
Earlier investigations of similar expense moves by Ed Balls and Yvette Cooper were abandoned after completely coincidental police threats to take away all computers, mobile phones and technological equipment more complicated than scissors away from the investigators, their families and anyone they knew unless they pled guilty to child porn charges.
Ms Smith thanked the Party for its confidence and promised to continue her work for the benefit of the law-abiding citizenry of the United Kingdom. "All twenty-two of them."