CYBERMANDY, The Information Super-Motorway, Monday (NNN) — Peter Mandelson has launched LabourListing.com, a completely independent Labour Party website not affiliated or controlled by the party in any way whatsoever.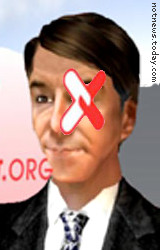 "Spin is dead," said Lord Mandelson today. "We've issued a press release to this effect to our favoured journalistic contacts."
The site features an avatar of Lord Mandelson, a small "Handy Mandy" figure, to guide the reader through a very special Labour experience. Handy Mandy will offer the reader a completely free choice of several places to go to next, all leading to the same following page.
To compete with the highly successful ConservativeHome site, LabourLurching will feature:
A "take to this 'Web' thing" initiative involving the MPs most in tune with the culture and technologies of the Internet, such as Andy Burnham, with lots of help from his friends from the record companies. Labour supporters will be able to help vote on British Board for Web Classification ratings. "We should get through all two hundred million websites in no time."
An Obama-style "virtual phone bank" for Labour campaigners in the run-up to this year's council elections. The site will include coaching lessons in sounding like a robocall recording.
Breaking into "social networking," on trendy and popular sites such as Friendster.
Expanding the use of "virals" and web humour. "We're feeding pictures of Dave Cameron to 4chan, and we're pretty sure we're close to having one get popular instead of being followed up with a string of cartoons of Japanese schoolgirls with inflated breasts. Those nice fellows from b3ta also offered to help, and we can't wait to see what they can do for us."
Teaching Gordon Brown to use emoticons. "We've nearly managed to get him past putting frowny faces on everything."
"The project will only work if we can end top-down politics," said Lord Mandelson. "I am, of course, the first person anyone would think of for such a task."