SKID ROW, Redmond, Friday (NNN) — Microsoft Corporation is headed for swingeing layoffs in mid-January after the failure of its stock buyback program, and has called for a government bailout in the face of the credit crunch.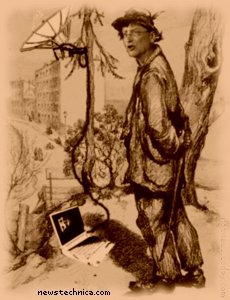 "Vastly popular operating systems like Vista just aren't selling," said marketing marketer emeritus Bill Gates, "and it's all because people aren't confident to spend their money. In fact, they didn't start buying it in 2007 because they were expecting this even then. A subsidy to buy good, honest American computer operating systems is essential to the health of the economy, or my part of it."
Should the Big One of American virtual office supplies fail, economists predict that it could free up millions of dollars in business spending and provide a devastating boost to an economy reeling from the impact of the credit crunch.
Hiring in most Microsoft divisions has frozen in the last six months and 30GB Zunes are already on suicide watch. "The workload's impossible to keep up with," said blog technical evangelist Gary M. Stewart. "I've even been answering Slashdot comments on Boycott Novell. It's impossible to keep track of! Anyway, you're just another Twitter sockpuppet. Or Mini-Microsoft. Admit it."
Additional bailouts have been hooked on the bill as riders for HD-DVD, eight-track cartridges, 78rpm gramophones and Babbage analytical engine gear manufacturers.
Senators have stated they will only bail the company out with a change in top management. "What the shit," said Linus Torvalds as his draft notice arrived.
Get daily email alerts of new NewsTechnica!