MEDICAL MEGASTORE, Oxford Street, Monday (NNN) — Sir Richard Branson has accused politicians of "tinkering" with infection control in hospitals.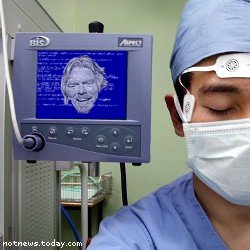 "If our airlines had that kind of track record we'd be grounded. So we need to apply the Virgin Atlantic and VirginBlue model to the NHS. We've also our experience with Virgin Trains and bringing NTL up to quality to bring to the table."
The new Virgin Medical PFI corporation will operate a new line of cheap, cheerful and financially efficient assembly-line medical operations. "We can buy thirty-year-old equipment cheap, like with VirginBlue, and polish it up and put new logos on it."
Appointment scheduling will be farmed out to Virgin Trains' Midland Mainline operations. NHS Direct and 999 will be taken on by the Virgin Media customer support department. "We think a 'quintuple play' of phone, internet, television, mobile and having an ambulance show up before you die will be a major marketing winner. If you haven't been trying to read Wikipedia or anything, of course." Non-subscribers will be taken to hospital by a Virgin Balloons flight.
Sir Richard also called for more information for patients on infection rates, and a tougher policy on managers at failing trusts. "We're calling MRSA the 'Virgin Killer.'"
BUPA shares were up 5% in early trading.
Get daily email alerts of new NewsTechnica!