CHAP CENTRAL, Southwark, Friday (NNN) — London mayor Boris Johnson's competition to design a new Routemaster bus to replace the unpopular bendy buses has been won by a design from Aston Martin.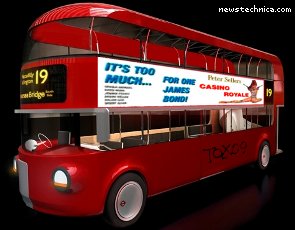 The new bus, the Routemaster Double-O-Boris, features an aerodynamic profile, solar panels, side-mounted cannons and a fridge to keep one's martini ingredients instantly ready. It is also able to travel up to fifty miles underwater, maintaining encrypted radio contact with "M" back at the depot, "which will be useful when we extend the number 86 to continue past Romford to Paris," said Mr Johnson.
The accessibility problems of the old Routemaster are solved with the grab-pole at the back door, which a wheelchair can easily be tied to. A robo-conductor will take fares and shoot evaders with a taser gun. First-class will be at the front of the lower deck, with a concierge and a separate door.
The Health and Safety Executive said that all hop-on-hop-off usage would be monitored by HSE inspectors and restricted to those carrying a certificate of competency and who had a signed disclaimer on file with Transport for London.
The actual bus that will eventually be put into service is unlikely to be identical to the submitted designs, more likely being identical to the present suburban double-deckers but two feet lower and more cramped in all directions. With updated paintwork. "But it will be inspired by the winning design," said Mr Johnson. "Pow! Bang bang bang! Cripes, Mr Bond!"