MAN ON FIVE, Cook County, Monday (NNN) — The McCain campaign is looking at an Electoral College strategy heading into the final two weeks that has virtually no room for error.
"Democrat voting fraud is famous since Tammany Hall," says Republican strategist Karl Rove. "So we'll win without votes."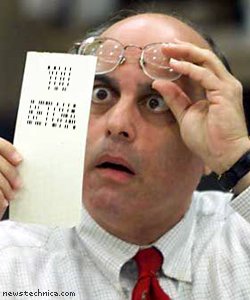 Voting machines have been remotely reset and the counts adjusted. "Diebold have come to the party big time." Touch screen machines for West Virginia early voting offer voters "McCAIN" or "REPLY HAZY, TRY AGAIN LATER."
The rolls will be thoroughly checked for voter fraud. "If the typeface or font size is different on their driver's licence, Social Security or the voter roll, that's obvious blatant fraud. A typical Liberal knife to the heart of democracy."
The party will check for dead voters as well. "We're making the safe assumption that all registered Democrats are dead. If they're not, we'll correct that." Governor Palin has long dealt with Democrat moose in Alaska. "You betcha!"
All residents of properties whose mortgages were underwritten by Fannie Mae or Freddie Mac will be assumed to have voted Republican. "We own the houses, of course we own the votes. It's nonsense to say otherwise."
Finally, under USA-PATRIOT, Obama supporters will be deemed associates of associates of terrorists. The offence will carry a penalty of one day's imprisonment: November 4th.
Mr Rove is confident in the future of our democracy. "One man, one vote. That man being me."
Get daily email alerts of new NewsTechnica!