PARK HOSPITAL, Bevan, Thursday (NNN) — Mothers-to-be are to be offered gift vouchers and beauty treatments to encourage them to give up smoking, the NHS has announced.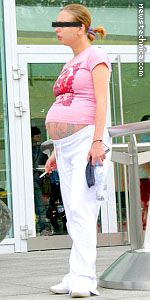 "Simply highlighting the dangers of smoking in pregnancy is not always enough," said Help 2 Quit director Kevin Lewis. "In one focus group of pregnant smokers, 13 out of 15 women suggested vouchers would be a good incentive to give up. They were quite specific on the selection of shops."
Smoking in women of fertile age has since risen 25%. "We was gunna go to Lakeside," said Chardonnay Pleb of Chelmsford, "but they said I'd drawn the second line on my stick. Cheeky cow! Just 'cos their test's broken. Or I had a spontaneous miscarriage at one week, between my test and their one. Gi's my fackin' vouchers!"
The NHS is also considering a voucher scheme as incentive for hospitals to clean sufficiently well that attending will be less hazardous to mothers and babies than smoking would be.
Get daily email alerts of new NewsTechnica!