WALL ALLEY, East Cheam, Tuesday (NNN) — The global financial crisis may require a multi-billion pound injection of public money over coming days. Smaller institutions are now seeking help, such as the First National Bank of East Cheam.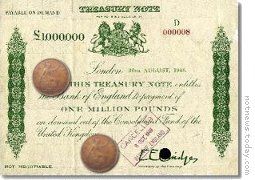 Founded by Boris Busybody, 77 (IQ), of East Cheam earlier this month, the bank has put in urgent asset warnings with the Treasury. "Holdings are way down. Our assets are incredibly leveraged. Capital ratio's buggered. Our, er, co-la-ta-rul-ised debt obligations have us tied in knots. In knots! It's a tragedy, it is."
Mr Busybody has urged the Treasury to mount a rescue package immediately for the bank. "If we go under, whoosh! It'd collapse the East Cheam banking sector. All them widows and orphans! You wouldn't believe it, honestly you wouldn't. Interbank lending's collapsed. I can't get any of 'em to cough up an overnight liquidity loan. Spare us five million quid, mate? Just till tomorrow. I'll be good for it. With Treasury backing."
Chancellor Alistair Darling responded to Mr Busybody's pleas with an offer to send Peter Mandelson around to discuss the matter. "Oh, er, that's all right then, we'll be fine, fine. Sorrytotroubleyou I'lljustgonow."
Get daily email alerts of new NewsTechnica!