LAGOS, Surrey, Friday (NNN) — Email filtering company MessageLabs reports that Egham, Surrey, on the suburban outskirts of London, is the town that receives the most spam in Britain.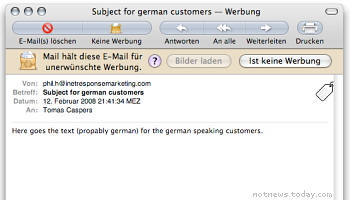 "It's not like there's much else to do," said Boris Busybody, 77 (IQ), of Egham Hythe, idly whirling his four-foot penis around his head in a desultory fashion. "Expanding your manhood, growing your breasts, increasing your sperm … the Lib Dem phone calls get a bit much. That's Doctor Busybody, by the way. My Ph.D arrived last week."
Spam has revitalised the local economy. Busybody has given up cab driving and is now working a lucrative job processing payments from home after he sent them his bank details in response to an urgent security message. "I had that King Otumfuo Opoku Ware II in the back of my cab once. Very generous and helpful fellow."
The Egham Tourist Board has seized the day, with plans for a 50 foot tall penis sculpture at Junction 13 of the M25 on the exit ramp to the town. The sculpture will be encircled by a genuine imitation Rolex and spray a fountain of Spermamax, obtained at a very reasonable rate from a Canadian pharmacy. "You will search an hour for your underwear in the ocean of our spam!" is to become the new town motto.
"I did get a good one the other day," says Busybody. "Barrister Matthew Sergeant Busybody of MessageLabs said we could promote our town to millions of people just by sending them an advance fee to process our incoming email. The stuff they try! 'Scuse me, V!k@grk@ kicking in, got to go have sex again. Sorry."