DEPARTMENT OF CONTRACTING, Pfi, Thursday (NNN) — The Home Office today unveiled the new British identity card, to be issued to non-EU citizens in place of visas. "This is vitally important," said the Home Secretary, Jacqui Smith. "LOOK! TERRORISTS!"
The card bears the subject's picture, name, date of birth, visa status, working status, place of birth, gender, mother's maiden name, favourite TV show and football team and preferences in pornography. The biometric details will be the subject's middle fingerprints. An RFID transponder and smart card chip will aid in the efficient reading and distribution of the subject's details.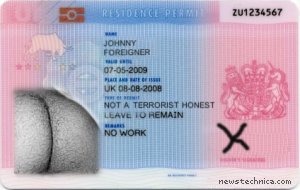 The card will be compulsory for foreign nationals. All terrorists and illegal immigrants will be required to obtain one and show it to policemen, council officials or dog catchers on request. From 2009, cards will be issued to new workers at airports, as forcing them upon existing staff may cause everyone to quit.
"The card evokes the fundamentally British nature of identity cards," said Ms Smith, "as shown by the EU load of bull and stars and the absence of the words 'Britain,' 'United Kingdom' or similar. It's the first UK identity card since the Second World War, so will help us all pull together in that jolly good old Blitz spirit."
"We wholeheartedly support this move, for the good of Britain," said Nick Hitler (no relation) of the British National Party. Reports that the BNP had put out a bounty on a "lost" data disk listing the names and addresses of every immigrant in the country are unconfirmed.
Ministers hope to roll out the scheme to everyone in the country by 2011, since they do not anticipate being summarily ejected from Parliament in the 2010 elections. In any case, EDS and Capita will still be paid.
Get daily email alerts of new NewsTechnica!