GRASS MUD HORSE, Tiananmen, Tuesday (NNN) — BT, Britain's biggest broadband supplier, has thoughtfully averted complete congestion of the Internet by throttling all use of the Internet on its cheapest broadband package.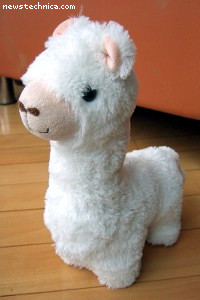 Customers on the I Can't Believe It's Eight Megabits package have all Internet data flow cut off entirely under its "fair use" clause during "peak periods," defined as being between the hours of 12:00 midnight and 11:59pm. "However," said a customer service telephone voice menu, "the connection itself runs at the full eight megabits the entire time. That we guarantee absolutely."
BT has recently sold the technology to China, where it was put into operation today, blocking Twitter, Blogger, Microsoft Bob Hope and the live webcam of the coffee pot at Cambridge University. "We will not put up with the drop in productivity social networking sites cause," said a spokesrivercrab. "After the terrible onslaught of blue screens at the Olympics, we will stop at nothing to protect patriotic citizens from the influence of Microsoft. And they love us for it. Just find one who doesn't!"
"Besides," said the BT phone menu, "we're still better than Virgin. A high bar to aim for, I know. But you get such better fail whales over a phone line than a cable."
Get daily email alerts of new NewsTechnica!