VEVEY, Suisse, Thursday (NTN) — Nestlé will be removing all artificial flavours and colours, like Red 40, Yellow 5 and Screaming Agony 666, from its chocolate candy products by the end of 2015, replacing them with the delicious tears of malnourished infants.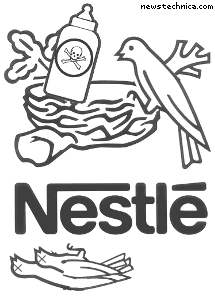 "Nestlé is the world's leading nutrition, health and — hold on, is this right? — wellness company, or the first world's at least," said Doreen Ida, Nestlé USA Confections & Snacks president.
Consumers have long surveyed as wanting food not to contain artificial colours, flavours, genetic modifications, DNA, microwaves, wifi, chemicals or atoms, apparently preferring to eat alchemical workings using only the four humours.
"We have consulted with Food Babe on a new process, using only pure, wholesome, organic and sustainably-farmed pain and suffering, guaranteed to be from poor people in a country that isn't yours. We know you are fully willing to make sacrifices to improve your lifestyle, as long as those sacrifices are of other people halfway around the world."
The nourishing tears of children dying in pain are the vital ingredient in the new process, preferably those gathered from tainted formula induced dysentery. "Obviously too foolish and dissolute to use safe Nestlé privatised water!" All babies are certified to have grown up in an environment with minimal quantities of artificial chemicals, electromagnetic radiation or modern allopathic medicines.
"We never compromise on taste. Maintaining the great taste and appearance consumers expect from the chocolate brands they know and love is our number-one priority. It is technically true that a mountain of suffering goes into every bite, but we'd never let that compete with your convenience. Nestlé: Good Food, Good Life. Yours, Anyway."