HECK ON EARTH, Warringah, Sunday (NTN) — Australian atheists have strongly endorsed Liberal leader Tony Abbott's plans to make Bible study compulsory in schools. "Nothing but nothing makes people leave the church faster than actually reading the Bible."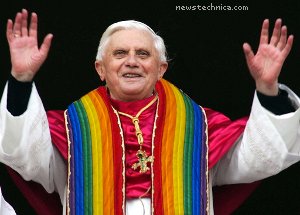 Mr Abbott's proposal was so that children would have a fundamental understanding of Christianity and "the great texts at the core of our civilisation." Also, he's going to lose anyway, so might as well shore up the base.
"We agree that people should study the Bible," said the Atheist Foundation of Australia. "Did you know that God personally killed 2,301,417 people? Those are the ones numbered, there are about thirty-three million in collateral damage. Satan killed ten, and those were only because God put him up to killing Job's family. Be good, or God will show you His love!
"Don't forget that in the same bit He hates on the gays, God calls out prawns as an equal abomination. And wearing poly-cotton blends. And having an inside toilet. Though the bit where you have to stone your kids to death if they're profligate drunkards might get the little shits to fucking behave.
"Not to mention the contradictions. We want to hear a creationist reconcile Genesis chapters 1 and 2. Or tell us what Christ's last words were. Or tell us how Judas died. Reading different chapters side-by-side is great stuff. Oh, and don't forget maths classes, where they can see the Bible solemnly declare that pi equals three.
"But most of all, we want to hear Tony Abbott reading the Song of Solomon in Parliament."
"There's probably no Liberal Party," said Julia Gillard. "Now stop worrying and enjoy your life."