DEATH PANEL, American Heartland, the End Times (NTN) — As part of ongoing efforts to destroy everything America stands for, foreign-born election stealer Barack Hussein Obama openly conspired at the White House on Friday with his liberal Atheist masters.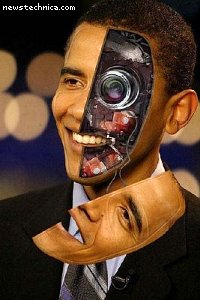 Representatives of the Secular Coalition for America, an umbrella group which includes American Atheists, the Council for Secular Humanism and a bloodthirsty coalition of Communists, Feminazis, Homosexuals, Evolutionists, Readers and other unAmericans, visited the White House Friday, in "the first time in history a presidential administration has met for a policy briefing with the American nontheist community, so as to better ruin the economy, your lives and your community."
President Barack Obama was not scheduled to make an appearance at the meeting, but it is understood that he was to take clear direction from his French controllers.
"It is one thing for Administration to meet with groups of varying viewpoints," said Council Nedd of In God We Trust, "but it is quite another to sit down with one we disapprove of. These are some of the most hate-filled, anti-religious groups in the nation. It is clear that Mr Hussein Obama will send all good, true and decent Americans to concentration camps, where those failing the literacy test will be sent to the gas chamber. The bankers who destroyed the economy were Atheists! Well. Jews. Same thing."
Over 13 percent of the population is considered "non-religious," an even greater number than alleged homosexuals and evolutionists. The atheists advocate such destructive notions as separation of Church and State, considered responses rather than gut reactions to crises and a minimum fifth-grade reading level for all. In addition, they are thought to favour the use of logic, consistency and joined-up thinking.
"I was religious before," said Mr Obama, "but you people are the best evidence I've ever seen that there is no God."