TIN PAN VALLEY, The Matrix, Wednesday (N! News) — Film companies today expressed their disappointment that the Federal Court found that iiNet was not using orbital mind control lasers to encourage copyright infringements by its customers on its network.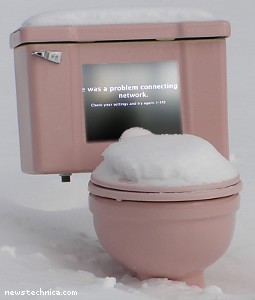 Despite findings of copyright infringement by iiNet customers, pirate flags in their front yards and downloaded cars in their driveways, iiNet did not authorise the acts of its customers, merely sitting back and watching the tens of dollars rolling in to feather their own nests at the expense of the poor beleaguered major record companies and film studios.
Australian Federation Against Copyright Theft executive director, Neil Gane, said he was disappointed by the Court's decision. "Today's decision is a setback for the 50,000 Australians employed in the film industry, who work hard to send money to America as fast as possible. But we believe there's something not quoite roight about this ruling — it was based on a mere technical loophole centred on the court's interpretation of what the law technically says in actual words and original intention, rather than what it should say. That the judge told us several separate ways in which our case failed utterly to make any sense at all is clear evidence of radical judicial activism and dangerous legislating from the bench.
"We are confident that the government does not intend a policy outcome where zombie hordes of drooling open source copyright terrorists led by the evil genius Michael Malone are allowed to continue feasting upon the flesh of the living via the iiNet network.
"We will now take the time to review the decision before seeing if we can bribe enough federal politicians to get a law more to our liking."