EX FACTOR, Smersh, Tuesday (N! News) — Pop android Cheryl Cole has lost her fight to build a secret underground swimming pool in her supervillain's lair high in the craggy mountains of Guildford, despite claiming "spies in the sky" would try to snap her in her bikini if she had an outdoor pool.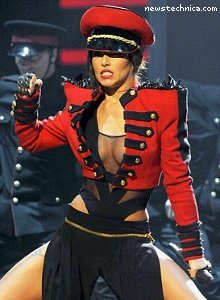 Mrs Cole claimed she was too famous to sunbathe in her own garden for fear of being buzzed from the air. "Them Russkies will stop at nothing to beat England," she said. "Ash told me they beat us at football last week."
The Coles have already transformed their classic English cottage with three storeys above ground, five below, a helipad and an aircraft hangar. They wanted to construct a 12m×5m below-ground pool with a gym, spa, sauna and steam room, a missile silo, a radar scanner and a laser space beam to take out interstellar paparazzi UFOs to stop them being pictured in "intimate episodes." The council also refused permission for a second anti-aircraft gun.
"It's so sad," said Mrs Cole, "now I'll just have to wander around topless in my own garden and be photographed shagging Ashley in the pool with no protection from photographers whatsoever. Saturday afternoons, yeah? Get my left side if you can, that tit's bigger." She said Ashley had insisted she was still to address him as "Thunderbird One" in bed.
Style icon Cheryl was voted Lad Wanker Magazine's "Dumbest Othewise-Cute Woman In The World 2009" earlier this year. Police have warned citizens that her new album has just been released.