TELEVISION EXTREMITIES, Shepherd's Bush, Saturday (NNN) — After Jeremy Clarkson's column in the November issue of Top Gear magazine berating BBC executives' fondness for "black Muslim lesbians," a crack squad of said demographic has staged a coup and taken over the show.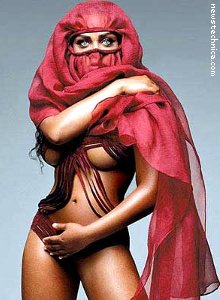 "The plague of political correctness means that women are allowed to have jobs, ethnic minorities are not discriminated against, and bullying and sexual harassment are not allowed. This would be a disaster to Top Gear," he said in the column.
In the next episode, airing tomorrow evening, the new team will crash-test Jeremy Clarkson's ego using a Robin Reliant, a Sherman tank and a spare NASA probe similar to the one shot at the moon yesterday. The climactic finale will involve a clue-tipped nuclear bomb being directed at Jeremy Clarkson's skull. "We're fully confident not even that will penetrate," said Linda Bellos.
Scientific testing suggests that Mr Clarkson is in fact a highly intelligent and knowledgeable man, as is Jonathan Ross, despite the gross implausibility of such a result. The reports are being reviewed by Ben Goldacre. Jonathan Ross has also been found to look better in a miniskirt, and his blackness, lesbianism and Islamicity are under review.
Get daily email alerts of new NewsTechnica!