YESLER WAY, Seattle, Friday (NNGadget) — Office supply company Microsoft has reassured consumers and industry analysts that its decline will continue with the new video on how to run a Windows 7 house party, whose "viral" nature goes beyond "herpes" or "swine flu" to "SARS."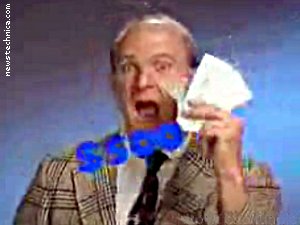 Originally thought to be a devastating satirical spoof before being confirmed as genuine, the video features Stepford wives and husbands reading lines off the autocues in each others' blank eyes on how to hold a party. The digital clock on the cooker in the background jumps around at random. The black guy and the MILF go off to fuck. Finally, everyone drinks the cyanide-laced Kool-Aid and looks forward to being one with Steve Jobs in the next world, before discovering that they have been judged unworthy and will spend eternity with Steve Ballmer instead.
The video was produced by the same team that advertised Vista with comedians Jerry Seinfeld and Bill Gates, working again with abnormal psychology researchers from the University of Washington. "Count the headlines!" shouted one of the marketing department's several thousand monkeys with video cameras. "Count the YouTube views! It's clear that my work gets the brand out, and if I don't get appropriate compensation in my annual review I'll be suing." The Polish version of the video features a white face crudely cut-and-pasted over the black guy's head.
"Windows 7 was getting great reviews," said completely independent ZDnet marketing marketer Mary Jo Enderle, "even the geeks loved the preview versions, everyone was amazed that Microsoft appeared to have successfully grown past the Vista disaster. But the mind-sodomising cluelessness of thinking this video was actually a good idea has firmly snatched defeat from the jaws of victory, blessed Windows 7 with the stench of death, confirmed that it really is just Vista with a coat of paint and set everyone's mind at rest.
"That's why my column this week talks about all the great stuff coming in Windows 8. Windows 8, that's the one to beat! It'll work on netbooks! It'll be secure! It'll have a database filesystem! Snow Leopard can't touch it! Businesses should definitely move from XP!"
Microsoft has previously shown its deft ability to drop the ball two yards from the end of the field with the XBox 360, in which a powerful and popular game console was manufactured so shoddily that over 50% of machines turned out defective, and the Zune, in which an MP3 player of decent hardware capabilities at a good price point was crippled with bad firmware and unusable software and sold in a package the color of baby shit. "In a stroke of genius, they put in wifi but not a web browser, so the iPod Touch could steal their thunder six months later. You don't get brilliance like that for free."
The new, abbreviated Windows 7 house party instructions have been sent to marketing: "Here is a Windows 7 DVD. Here is a bottle of vodka. Here is a gun with one bullet."