GAMESCOM, Ichiyaga Camp, Tuesday (NNGadget) — Sony is releasing the new PlayStation 3 Slim across Europe in early September, in the hope that anyone will remember the PS3 still exists.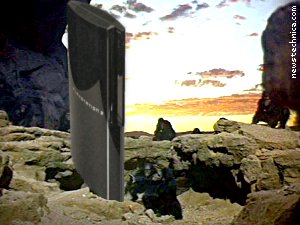 The new light-weight version is two-thirds of the size and weight, only requiring a single, much smaller, extra room built onto your house, fitted with 13-amp 405-volt three-phase power. The new, more compact enriched uranium fuel rods are not supplied.
PlayStation chief Kazuo Hirai made the announcement at the GamesCom conference in Cologne, in a move widely seen as an attempt to regain momentum in the battle against rival Microsoft and put off having to ritually disembowel himself with a sword. "Our competition is absolutely the XBox 360. That's the one to beat! Thank God they didn't build hardware that worked, we'd have real trouble if they had."
The PS3 has struggled thanks to its high price and lack of games, not to mention competition from the Nintendo Wii, which, apart from costing half as much, is actually fun. The Sony console did, however, have spectacular launches in Japan and America, with tens of fans queuing through the night to get their hands on the console, particularly with their Sony employee discount. The machines sold at only half the price on eBay soon after.