ISENGARD, Wapping, Monday (NNN) — Rupert Murdoch, speaking out on the news business, stated today that "the Internet free access model is clearly malfunctioning, as I don't make enough money from it."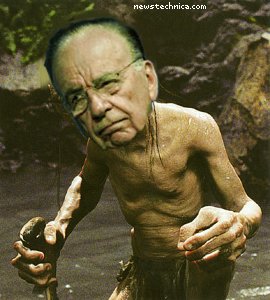 Media commentators fear for the future of investigative journalism. "How can we hold governments' feet to the fire without money to pay our great reporters? Where would you get your recycled wire feeds, your Garfield cartoons?" Publishers hold that it is natural for readers to pay what advertisers once did, just as cows have to make up the difference out of their own pockets when the price of milk falls.
Newspapers have suffered badly since the collapse of their previous business model of selling readers to advertisers on a local monopoly basis. The replacement models appear to involve phlogiston, caloric and luminiferous aether.
"We have to educate people that free doesn't work, particularly for us," said Vanessa Thorpe of the Guardian Media Group. "I tried an advertorial repeating several times that nothing will be free any more, to magic it into happening. I also subtly implied the Pirate Bay were Nazis — HITLER! HITLER! HITLER! — so we'll see if we can make that one fly too."
Publishers have also explored the notion of getting Google to pay its "fair share" for so parasitically leading people to newspapers' websites. The Wikimedia Foundation promptly started billing journalists for their reprints from Wikipedia. "We feel this is completely unfair," said Tom Curley of the Associated Press, "as real news stories spring forth from the heads of accredited reporters in an immaculate creation from nothingness. My preciousss." Maurice Jarre was unavailable for comment.
Get daily email alerts of new NewsTechnica — home delivery via Feedburner!