666 FOLLOWING, 0 Followers, Thursday (NNGadget) — Users of the inane antisocial networking, bodily function documentation and terrorist tool Twitter can now index their spurious 140-character babbling with "twubs," Wikipedia-style "hub" pages for Twitter "hashtags." The "hashtags" are made from a Class C controlled substance and induce lethargy, overeating and carpentry.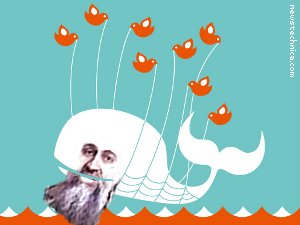 Twitter "hacktivist" Ravenwoo Granola commended the advent of "twubs." "Hash in tags is a fantastically effective way to keep track of swine flu, airport demonstrations and police brutality. I can get activists, or 'tweeple,' into action at a moment's notice. In an hour or two," she said, picking up a bong made from an at-sign. "I'm pretty mellow here."
Users can exchange cool Twitter user names on "Twee Exchange." I wish I were making this up.
"Trapped in a lift again," said Stephen Fry. "Scottish 'food' vendors find way to deep-fry swine flu snot, Scots expected to be extinct in six weeks," said Warren Ellis.
Other popular indexing tools for Twitter posts are "twonks," "twats" and "turds." The Twitter posting software includes "Tweep," "Twinkle," "Twiddle," "Twidiocy," "Twurgid" and "Twasturbator." Twitter users now gather in "twibes." Regular Twitter users are known as "twunts."