DO-AS-YOU-PLEASE, Faraway Tree, Sunday (NNN) — Half of British adults do not believe in evolution, with at least 22% preferring the theories of creationism or intelligent design and 10% believing in young Earth creationism, according to a survey by religious thinktank Theos.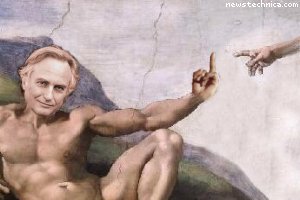 Coincidentally, 35% of these respondents were found to have family trees bearing less resemblance to a branching structure than to a briar bush, and 12% considered people with ten fingers to be "signs of the devil at work."
"We need to do whatever we can to stop 'evil-lution,' as I call it," said Stephen Green of Christian Voice from his backroads homestead in deepest Carmarthenshire. "To this end, we must preserve the miracle of God's grace of sexual reproduction and focus it inwards. Like breeding thoroughbred race horses or pedigree Chinese Cresteds." Two of his hands emphasised this statement with a particularly striking banjo riff while the other one was holding the phone, with vocal harmonies courtesy the parasitical twin head attached to his rump.
Later this month scientists and academics from across Europe will meet in Dortmund, Germany, to discuss evolution and creationism and specific difficulties regarding the acceptance of evolution theory in their home countries. "We're hoping they'll be a self-solving problem as they get out-competed by amoebas, fungus and Essex girls," said Professor Richard Dawkins, "as long as we can stop them taking the rest of us with them."