BUCKLEY'S PALACE, Victorian, Wednesday (NNN) — The Queen's Speech today announced new government plans to help get the country back on its feet and beat the Great Slight Economic Downturn by beating the people at the sharp end of it.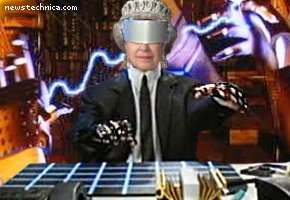 Jobcentres will employ lie detectors to train the unemployed to beat polygraph testing and maintain the convincing demeanor and operant-conditioning-induced emotionless psychopathy so helpful in job interviews, the modern workplace and the Church of Scientology. Staff will also be trained on the polygraphs so as to improve their skills at telling benefit recipients that no-one is available to handle their case right now, that they should wait at the upstairs desk or that they should call a never-answered 0870 number or lose their benefits. So as to eliminate child poverty, single mothers will be expected to be ready for work within 48 hours of giving birth, though this will be extended to 96 hours on medical advice from a Jobcentre doctor.
Tenured parasite upon public funds and author of the recommendations Professor Paul Gregg of Bristol University admitted the idea was to punish people by creating a "hassle" in their lives. Unions, welfare groups and millions of unemployed people kindly offered to return the favour.
Immigrants who make no effort to integrate will have to wait longer to become UK citizens. "Integration" will be measured by government testing of Coronation Street and Eastenders knowledge, prodigiousness of lager drinking, whether they have put sufficient personal initiative into breaking out of the brothel they are being held prisoner in, measurement of headscarf or beard length by official inspectors and whether the subject has a known propensity for being brown in public.
Bankers will be required at all times to wear a high-visibility orange vest with "Community Debtor" on the back, so that decent working people and their families are aware of the banking person's presence and know not to acknowledge them unless they are actively lending money to them.
"My Lords and Members of the House of Commons," the Queen finished her speech, "I … oh, sod this. I'm not mouthing this demeaning bollocks another year. You can become a bloody republic. I'm off to Australia, they respect their monarchs there."