TELEVISION CENTRE, W12, Tuesday (NNN) — National outrage was sparked by a moment's idiocy on the part of Jonathan Woss and Wussell Bwand a few weeks ago when the newspapers ran out of stories about Big Brother contestants, skateboarding ducks and what your breasts mean to fill the spaces between pronouncements of economic doom.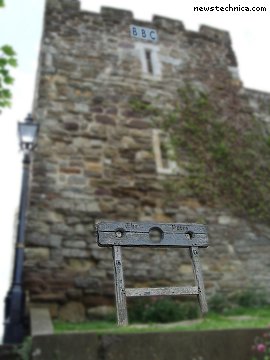 The incident occurred when, in a terrible lapse of judgement, a radio producer let Mr Ross and Mr Brand behave on-air in the manner they had been hired to. It is understood that Brand made the slanderous suggestion that he had in fact managed to get it up at least once whilst going out with Georgina Baillie.
"I am mortified," said Ms Baillie, "at the number of half-page photos of my smile and cleavage in the papers and the many impending offers of work. Just mortified."
The BBC has suspended the two presenters for embarrassing director general Mark Thompson.
"In these dark, Maddie-free days," thundered all papers, "this sort of obscenity against a member of the Satanic Sluts cannot be countenanced. Suspension is hardly sufficient. The British sense of justice and fair play will not be satisfied until they are castrated by a baying crowd, pursued through the street on horseback with dogs, hanged by the neck outside White City until dead and their foul corpses left there to fester for at least a month. We pay our licence fees!"
"I denounce these despicable demagogues of dull-wittedness, whoever they are," thundered Gordon Brown, with a Prime Minister's sense of what it means when Luscious Lucy, 19, of Sheppey comments on a public issue from her editorial column on page three of The Sun. David Cameron blamed ten years' financial ineptitude from Labour and vowed that the Tories would be tough on Brand and tough on the causes of Brand.
Chancellor Alistair Darling counseled caution, however, warning that the credit crunch would almost certainly lead to difficulty in securing sufficient teapots for a really good tempest.
Get daily email alerts of new NewsTechnica!