PHONING IT IN, Helmand, Monday (N! News) — Television novelty gnomes Ant and Dec have survived a Taliban rocket attack at Kandahar airfield in Afghanistan.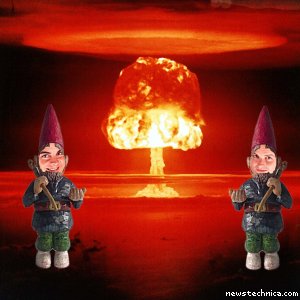 "They were shouting something in Afghan," said Declan Ant, "about a phone bill from calling into a show. No idea what they were talking about."
The duo had been sent to cheer up the troops, the government having considered them just the tonic for soldiers who had been through a series of violent, confusing and emotionally-shattering ordeals. "I thought it odd that some of the Taliban attackers were wearing England football shirts and shouting Arabic phrases that — and this is really funny — sounded like 'Fook off you Geordie wankers.' Amazing coincidence."
Their agent is currently taking offers not to make a celebrity sex tape available. Verne Troyer has already threatened to sue for trademark infringement. The lines are open right now at £1.50 a minute.
Get daily email alerts of new NewsTechnica!