SECURITY EIGHTPLEX, Whitehall Odeon, Monday (NNN) — Prime Minister Gordon Brown has hailed the launch of the UK Council for Child Internet Safety as a "path-breaking" new diversion designed to protect the most vulnerable members of society: "The politicians."
He said, "The internet provides a world of entertainment, of opportunity and knowledge, but, most importantly, distraction. We must put in place the press campaign we need to appear to be keeping our children safe online. Scientists have proven that paedophilia did not exist before the Internet, and was invented by Gary Glitter as the result of a 'Rule 34' jest."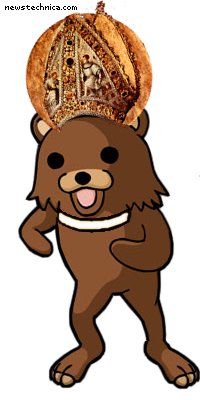 The Council was formed based on recommendations from television psychologist Dr Tanya Byron's report Gi's A Consultancy Go On Gi's It. It will police the web, take down harmful sites — since all web servers are under UK jurisdiction — and monitor the Wikipedia entries of Government ministers. UK-based web hosts will be made an offer they cannot refuse to sign up to a voluntary code of conduct. Reports of hosting providers in other countries gleefully rubbing their hands together are unconfirmed.
Home Secretary Jacqui Smith said the Home Office would do everything it could to present the appearance of effectiveness. "This is not mere 'security theatre.' We are aiming for 'security 3-D movies with fantastic CGI special effects.' And a 'security Punch and Judy show' for the little ones. We can prevent bullying! And people being rude in chat rooms! And bum jokes! Our consultants, EDS Capita Goatse, have made us a most reasonable offer to take on this work, and only charged us £500,000 so far for thinking about the matter."
Dr Byron welcomed the prompt creation of the Council. "The UK is a world leader on internet safety for children, and I look forward to collecting a truly spectacular ongoing income stream."
The Prime Minister will be kept directly informed of the Council's progress, using the same technology that provides Internet petitions to his office. He further promises to pay every bit as much attention.